Looking for somewhere to unwind after a long day? Look no further than the Captain's Table Happy Hour, where mouthwatering dishes and refreshing drinks come together to create an unforgettable experience. Explore their $10 appetizers that feature a variety of flavors for every palate!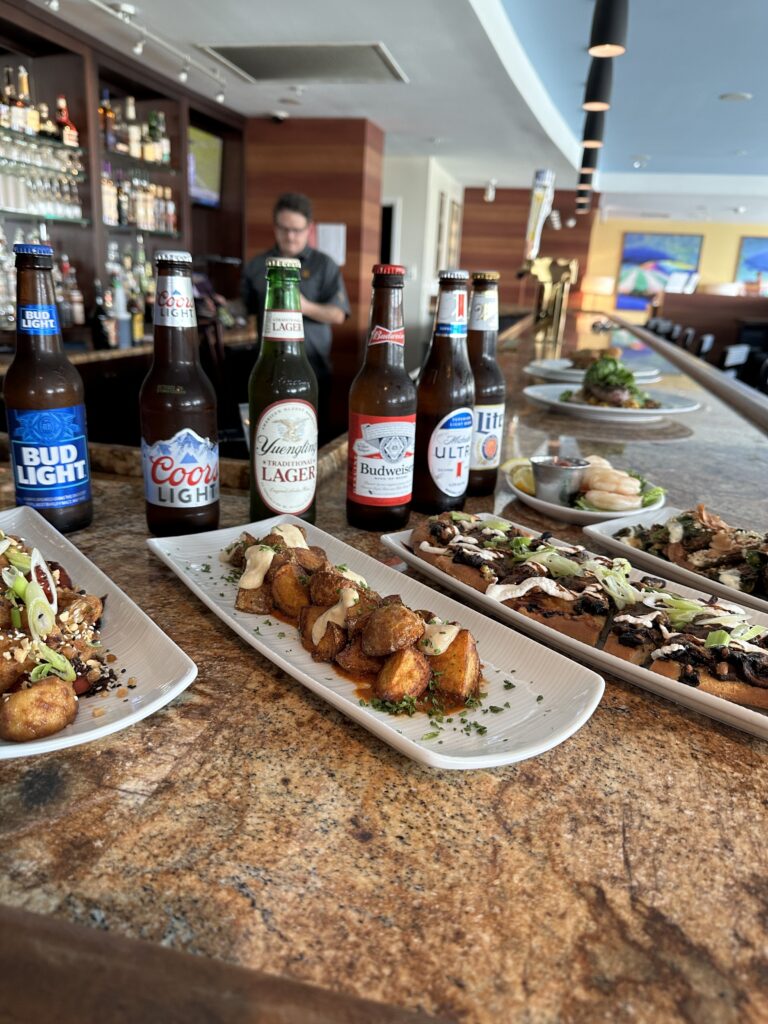 Topped with roasted mushrooms, creamy boursin, white cheddar, and a drizzle of balsamic reduction, their Mushroom Flatbread is a must-try! And if that didn't already have you drooling, the gourmet touches of truffle-pepper cream and a sprinkling of scallions definitely will.
If you're a seafood aficionado, their Shrimp Cocktail is a fresh and classic choice. These poached and chilled shrimp are served with zesty lemon wedges and a tangy cocktail sauce, providing a burst of refreshment with every bite.
For a bold and spicy option, Captain's Table Patatas Bravas are twice-fried to crispy perfection and accompanied by a spicy roasted tomato sauce which is sure to delight your taste buds. Also, a dollop of roasted garlic aioli adds a creamy contrast to the spice, making each bite the perfect balance of texture and flavor.
Vegetarians and veggie enthusiasts prepare to be amazed by their Kung Pao Cauliflower. The tempura-fried cauliflower florets are coated in a spicy-sweet glaze, then paired with bell peppers, onions, toasted peanuts, and scallions.
For a surprise that's always fresh and exciting, ask your server about the Chef's Choice offering. This ever-changing option allows Captain's Table's culinary team to showcase their creativity and provide you with a unique and delightful culinary adventure.
Of course, no happy hour is complete without a refreshing drink in hand. Dive into a selection of $3 domestic bottles, featuring the tried-and-true, Coors Light, Bud Light, Budweiser, Miller Lite, and Yuengling. But if you're looking for something a little different? Their $4 craft bottles and cans include options like the Evo – Lot #3 IPA and Big Truck – Half Cab Hazy IPA, which will definitely excite any beer enthusiasts.
Prefer wine? Savor their house wines by the glass for just $7, offering both red and white options to suit your preference. But, if cocktails are a little more your style, our $5 rail drinks are mixed to perfection and are the ideal companion to any meal.
Check out Captain's Table Happy Hour everyday from 4-6pm to experience these culinary delights and drink specials. Gather your friends, unwind in a comfortable atmosphere, and treat yourself to an evening out at Captain's Table!
Your taste buds and wallet will thank you!